---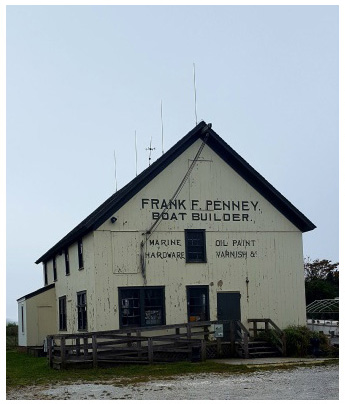 A request is going out to all you beautiful, talented artists of Long Island.
Long Island Maritime Museum is situated on the Great South Bay in West Sayville. Like many non-profits, this has been an exceptionally difficult year for us. We have been forced to cancel all of our fundraising events which we depend on to keep our doors open.
And then comes Tropical Storm Isaias! Well, she did quite a bit of damage to our property. One particular building, our Frank F. Penney Boat Shop lost quite a few of her cedar roofing shingles. The Frank F. Penney Boat Shop was once the laundry building of the Brooklyn Hotel in Center Moriches. When the hotel burned down, Mr. Penney jumped at the chance to rescue this building for use in his boatyard. In 1978 it was floated down the bay from Moriches to the Museum. Today it serves the same purpose it did in 1900!
So we collected all of these beautifully aged shingles with an incredible brainstorm of having Artists adopt a shingle to paint a maritime scene!
We would love this to be a fundraiser for our Museum. In October we would like to have them on display, allowing people to vote on their favorites, and the winner receives a trip on our 1888 Oyster Sloop Priscilla for the 2021 season. Selling/Bidding ideas are in the works!
We ask that you please reach out to your Guild for us so that we can get as many Artists interested in the unique event.
Please contact Mary Sullivan at Long Island Maritime Museum, 631-854-4974 or mary.limaritime@gmail.com
---
CALL FOR ARTISTS and ARTISANS
The Catbird Seat is a new art gallery / vintage shoppe in Sayville offering home decor, transformed furniture, gifts and accessories. The Catbird Seat is looking for artists and artisans for their monthly group shows as well as unique items to fill their store. They consider work from all over Long Island in all mediums. Painters, photographers, potters, quilters, jewelry makers, craftspeople working with wood, metal, glass, textiles and more are encouraged to submit their work. They profile artists and promote their work. Share your ideas with them and help to spread the word! They are located at 229 North Main Street, Sayville (in the pink house.) Winter hours are closed Tuesdays and Wednesdays. For more information contact Debi at info@thecatbirdseat.us or 516-987-8940.
---
CALL FOR ARTIST APPLICATIONS
Alliance of Artists Communities shares residency programs and special opportunities from across the country and the world. To view all of the upcoming deadlines for these opportunities and links for more info, visit artistcommunities.org.