---
This article was compiled and written by Hope Nicholson, Associate Producer, and Rachel Richey, Researcher, at Lost Heroes.
Murray Karn is a significant presence in Canadian comic book history, though his career in this field only lasted a few short years.
Inspired by the artwork of Alex Raymond and Hal Foster, popular cartoonists who created the Flash Gordon and Hal Foster adventure comics, Karn entered the Canadian comic field at the age of 18 by answering a call for artists in the local paper. At this time, the Canadian comic industry was brand new, created through a war-time ban on American 'non-essential imports' which included the popular comic book. Bell Features was the largest of these companies, running dozens of titles and selling millions of issues to children across Canada, though when Karn joined they were a fledgling firm with few titles released. The two characters that Karn is best known for are Thunderfist and Jeff Waring, which ran as features in at least two of Bell Features' monthly comic titles. Thunderfist was Karn's first work, this feature focused on a technologically-enhanced superhero who fought against the Axis powers. Having proven himself as a capable artist on Thunderfist, Karn was granted the opportunity to create his own feature, which he did in the form of Jeff Waring, the dashing Amazonian adventurer.
While the full extent of Karn's involvement in these comics is currently unknown, he was credited as the artist in at least three more comic features, all starred young, handsome explorers and soldiers. The men in Karn's comics were square jawed and rugged, often resembling heartier versions of Clark Gable. The women were often winsome blondes with doe eyes who accompanied the men on their adventures. Karn's delicate and artful style ranked him among the best of his contemporaries in Canada and the US. Karn was also given the opportunity to illustrate several covers for Bell Features comics, which showed the confidence of Bell's publishers in this young artist.
When Karn entered the Medical Corps, he brought his talent with him, creating entertaining cartoons to raise the spirits of wounded soldiers. Upon his return to Canada, Karn was accepted back into Bell Features, but as the company folded soon after his return, Karn looked south to new opportunities.
Karn was familiar already with the United States, during a trip to New York City, in his early cartooning days he had shopped around some of his work, surprised to find that American illustrators easily made three times the income that he did in Canada! In Karn's first post-comic position, he quickly became disappointed with the long hours, monotonous drudgery and low-pay of an art apprentice. One day, Karn walked into his art director's office and saw the layouts of the illustrators on staff. Karn quickly sketched out similar layouts and presented it to the director, who was impressed enough to promote Karn out of his apprenticeship. Karn worked in the advertising field from then on in, in Chicago, Cleveland and New York
Unlike many comic book artists who left the field for fine art or illustration careers, Karn respects the comic book art form, citing it as the basis for his illustration career.
In one of his first positions, his experience served him well, he began creating 'comic movies', advertising used in theatres that was drawn to resemble comic art.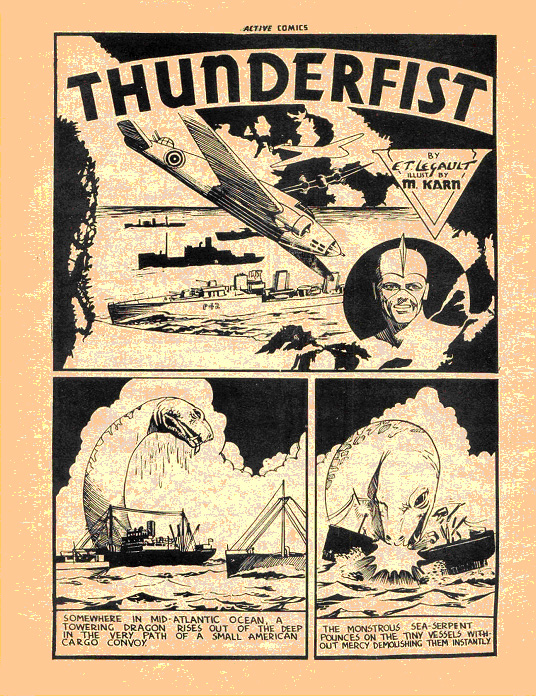 There is a lack of knowledge in Canada of the creators of these comic books, though millions of children across Canada thrilled to the stories of Karn's adventurers in the 1940s. The quality of newsprint meant that most comics were destroyed within months of purchase, infamous comic book burnings in the 1950s almost ensured their disappearance from Canada's cultural history. Remaining copies are now either hoarded by collectors, or maintained in pristine condition in the National Archives of Canada in our capital city of Ottawa. Through our documentary Lost Heroes, we hope to make all viewers aware of this fascinating legacy of Canadian comic book legacy, and restore Mr. Karn to his rightful position as one of the godfathers of the Canadian comic book industry.
* * * *
The Great Canadian Comic Books, a book written in the 1970s, discussed Karn's work two times. The following three paragraphs were written by Michael Hirsh and Patrick Loubert, who went on to found the internationally acclaimed animation studio Nelvana. They all concern Murray or his creations.
"Bell's first idea was to gather all his. artists under one roof where he could keep an eye on them, so he had cubicles built in his warehouse, and installed in them such major talents as Leo Bachle, Ross Saakel, Ted Steele and Murray Karn . Leo Bachle remembers that Bell paid him $25 a week, "which certainly made me a capitalist because I had been making only $10 a week before that". But Bell's scheme went awry because nearly all of his artists were in their teens – some as young as fifteen – and, to persuade teenagers to be productive in what Bachle called "the Black Hole of Calcutta" was nearly impossible when they were guaranteed a regular salary. So Bell cancelled his permanent stable of artists, declared he would pay them for piecework from then on (Bachle, for instance, earned $6.50 a page), and sent them home to work. "That stopped the tom foolery," Bell says. "At least it stopped it where I could see it, and I didn't have to pay for any mischief they got into on their own time."
"Jeff Waring, ably initiated by Murray Karn and later shouldered by Jerry Lazare, was a world-wide adventure strip which struggled for space with Whiz Wallace and Dart Daring in the early editions of Wow comics (7-14). The stories too often presented the reader with a painful progression of animal aggressors, lost cities (gold, emerald and platinum) and harried native peoples, and suffered from a sense of sameness. In the first installment, Jeff takes Kay, Prof. Allen's lovely daughter, to be his faithful companion, and together they thwart the professor's enemies and preserve the treasure of the lost city for the proper authorities. "
"Enter Thunderfist, the Crime Crusher. The artwork by Murray Karn made him the slickest of all the Canadian costumed heroes. Thunderfist was actually Randy Steele, who worked tirelessly on strange electrical inventions. He created, for instance, "a bullet-proof uniform charged with hundreds of electric volts powerful enough to kill a dozen men at once". Thunderfist featured an uncanny mythology of technology and weaponry, which he used as the keys to world salvation. In one adventure, he captured a machine that "will win the war for our country" (the atomic bomb as an ultimate weapon was the realization of this myth for the 1940s)."
---